Creators: Stefani Byrd
Annie Hui-Hsin Hsieh
Fernanda Navarro
Ine Vanoeveren
This interactive installation focusses on the socially awkward situations women have to deal with on a daily basis.
Physicality and awareness of the body are crucial for this experiment. By giving people abstracted female physical body parts, they experience how limited women's mobility is in order to protect their body.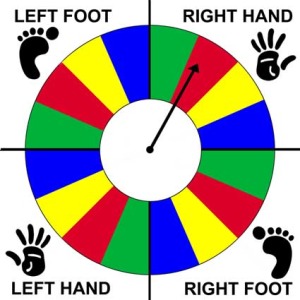 Crowded places, such as public transportation, can create socially awkward moments. Women need to protect their bodies, and more specifically their feminine body parts, in order to prevent themselves of inappropriate touching, accidentally or not. Breasts, butt, hips, belly… Our personal space becomes frequently invaded.
This awkward struggle limits us in our mobility and daily freedom. But physical limitation is not the only violation of freedom women need to handle, the psychological aspect is at least as determining.
Catcalling on the street, at work or in public spaces is very disturbing and can create a change in the feeling of freedom. But no matter how disturbing this can be, we don't have a choice: We can't stay home from work and we can't avoid public spaces.
The playground for this installation is Twister, already a very physical game. People will start playing the game in a cozy, covering jumpsuit, that doesn't give any awareness of gender. During the game we will provide them with objects: balloons to give the impression of breasts, butts, hips and bellies, tape tightly sung around their legs in order to limit their mobility…
On top of that we will provide a socially awkward setting: people can catcall them, take pictures, gossip about their appearance and features…
With this installation we want to experiment with mobility limitation, physical awareness and psychological disturbance.
Premiere on January 29, 2015, Price Center, UCSD, La Jolla.