As a researcher at the Royal Conservatoire Antwerp – AP University College, it is my ambition to develop and document a general performance practice method for contemporary music, in order to make contemporary music scores accessible and understandable for every student at the conservatory in a pragmatic way.
The results of my doctoral research from 2016 at the University of California, San Diego, where I developed a specific performance practice method for the solo works for flute by 'New Complexity'-composer Brian Ferneyhough, function as a starting point for this method. By re-analyzing, collecting and explaining the different strategies, methods and tools I developed to decipher Ferneyhough's music – but now specifically customized for performers without any or not much experience with contemporary music – I want to improve student's independency regarding practicing and critically performing contemporary music on stage – whether it is for an exam in an academic context or for a public performance in a larger concert hall.
This research project is a present day continuation on methods and research results for contemporary music, developed from the 1960's onwards. Traditional hand books, like 'The Present day flute' by P.-Y. Artaud, are still excellent and accurate technical resources. But in this method, I especially focus on general parameters, applicable to every instrumentalist: My 'Advanced Rhythm Tricks', based on 'Rhythm and Meter' by Edwin Harkins, unravels the technicalities and difficulties of complex rhythm; an introduction into 'Just Intonation' gives an insight in the profound and sometimes far-fetched harmonic choices of composers; my 'Color Code Extravaganza' can serve as a general mnemonic and partner in crime to find a clear path in that jungle of complex music writing and the 'knitters vs. sculptors' method will help students to develop their personal practice strategy.
With this method I emphasize on the fundamentals of contemporary music, that later on might evolve into a structured contemporary performance department at conservatories and music schools.
The actual end goal of this research is to increase the amount of 'contemporarily informed performances' (CIP) on stage and to embellish the present day concert scene with critically funded contemporary concerts, by informing and training the next generation of musicians.
For more information, please contact me via email.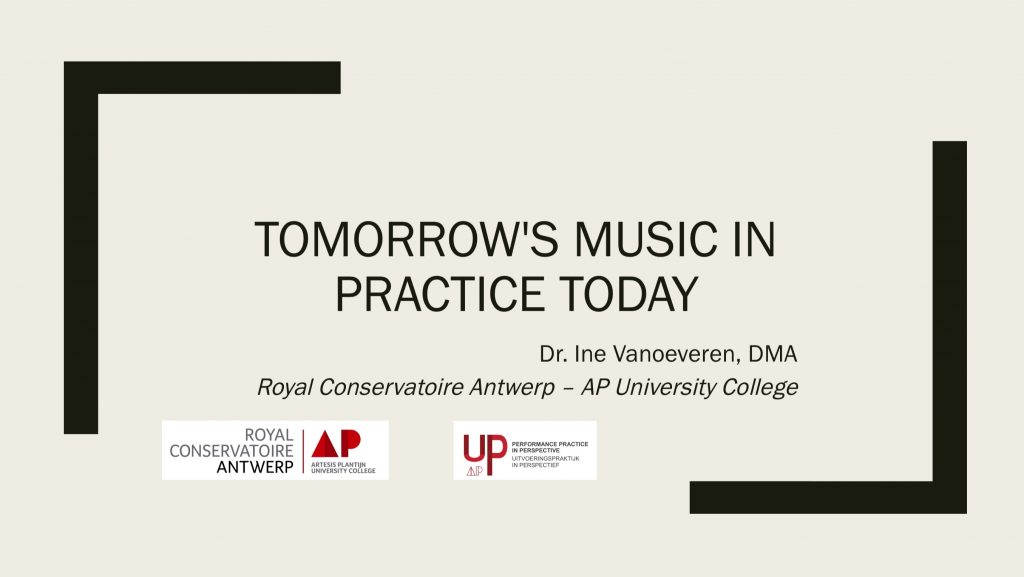 In cooperation with Royal Conservatoire Antwerp – AP University College.
Research group: Performance practice in perspective
All content belongs to Copyright © 2016 Ine Vanoeveren – flutist.