Empty Mind Project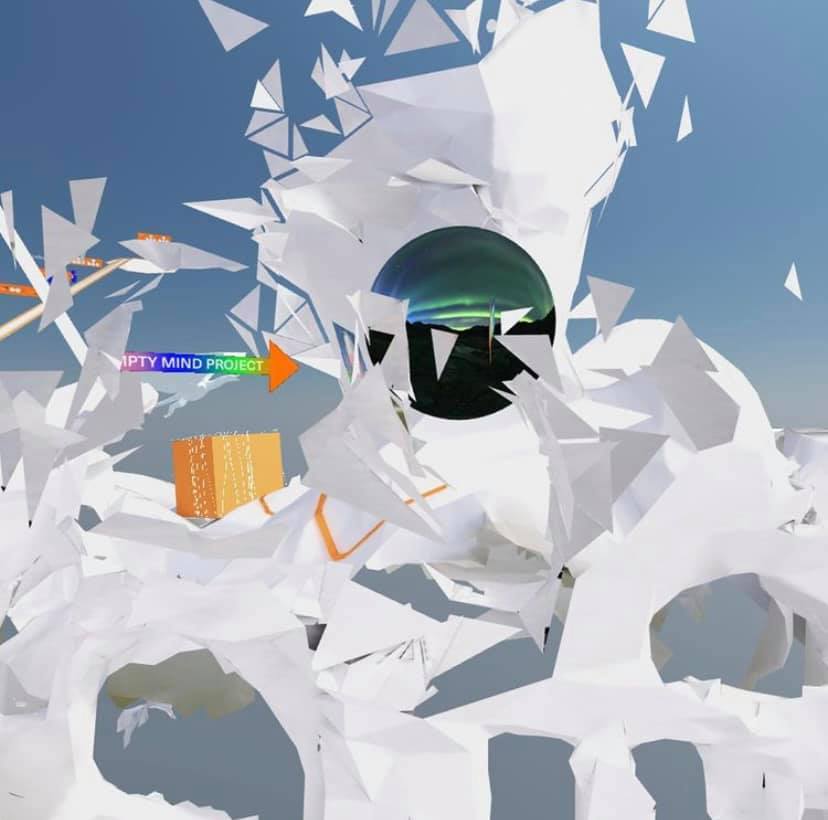 Background
Over the past year, several digital, artistic initiatives developed at a fast pace. From recreating digital twins of expositions and festivals, over art installations in Mozilla Hubs to performances in Gather.town: artists crave for alternative formats to express their creativity; audiences are looking for ways to escape their new, daily routine in COVID times.
Most of these virtual initiatives have a clear common factor: they are almost exact virtual copies of their physical, analogue format.
The alternative artistic festival Burning Man 2020 in Nevada (USA) knew a complete virtual edition, uniting a broad range of international artists. And although it was one of the more successful virtual events we have visited, the nostalgia to the 'real deal' was still very apparent. Participants could visit the virtual festival area; graphics matched the real festival and performances happened over livestream in a standard YouTube setting.
On the other hand, several platforms for virtual art are being born. A very inspiring example is Area for Virtual Art. Within this platform there is a strong focus on digital and virtual art, supported by background music and a music corner with YouTube videos.
Live performances from musicians, actors and dancers are lacking
Research goal and outcome
Our goal is to research and modify existing, open-source digital art platforms, while artistically focusing on interdisciplinary content: virtual creations will determine the foundation of a new hybrid, digital art form, consisting of virtual art, music, dance and spoken word, and will open a door for new possibilities regarding artistic creation, experience, and distribution. As a result, contemporary (performing) art(s) will become accessible for an audience that normally is being excluded from a cultural and artistic experience, because of physical, geographic and/or economical disadvantages.
Because of the DARIAH Theme 2020-2021 funding, we are able to include researchers and professionals from different disciplines and backgrounds: ICT developers, a graphic design company, musicians, mocap specialists and digital artists.
Our main outcome is scheduled for October 28th 2021, where we will present the hybrid performance of Empty Mind for flutes, live electronics and live visuals during the research festival ARTICULATE at the Wintertuin of the Royal Academy for Fine Arts Antwerpen. Besides the live performance, our main focus actually lies on the virtual experience online. The flutist will perform the piece in a motion capture suit. The movements of the performer will create the virtual surroundings in realtime, while the virtual audience can interact and influence the scope of the performance.
Research process
After researching different open-source platforms for virtual live encounters, we decided to further explore Mozilla Hubs as an accessible virtual platform for live performances.
Lockdown Lobby, with live event on January 26th, 2021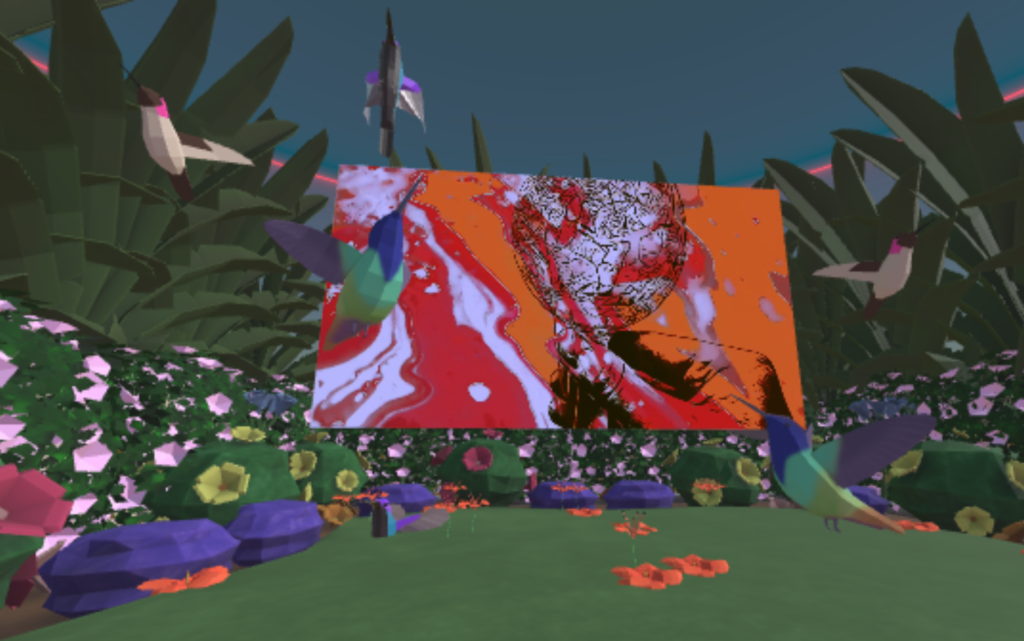 The Lockdown Lobby originated as an initiative to break the routine in daily livestreams. We bring an audience together in a virtual art space and let them experience new creations and compositions through their avatars.
Each lockdown composition is being presented in a customized setting in Mozilla Hubs. Over the span of a few weeks, the space developed into a virtual lounge for digital art: 3D- models, digital scans, photos, and GIFs to accompany the musical compositions. We organized a live virtual creation of Trumpet Vine for alto flute by Jason Eckardt with 30 visitors – the limited number of avatars in Mozilla Hubs without losing any technical performance qualities.
Inclusiv/Exclusiv on February 11th, 2021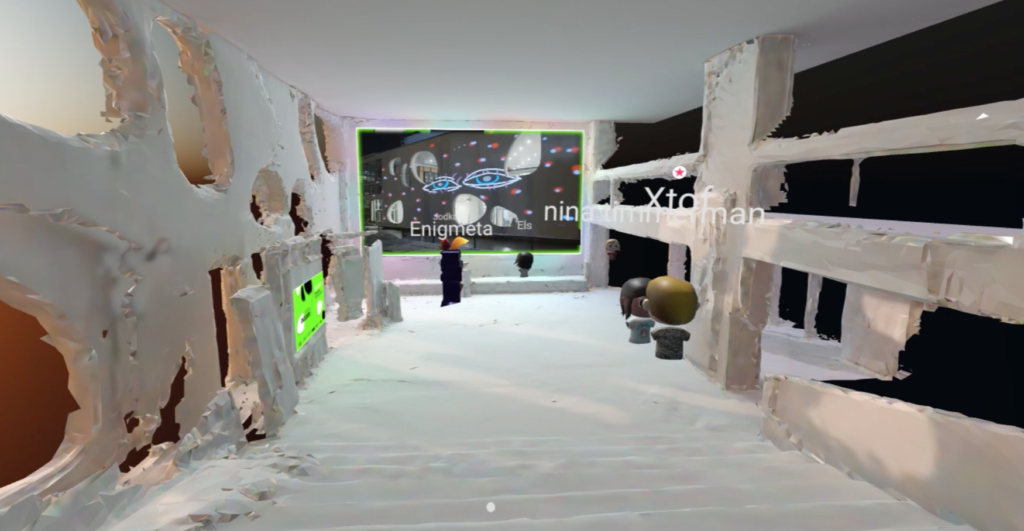 An aspect that wasn't covered in the Lockdown Lobby is that of a livestream. With this project, people could experience live drawings and animations by students of the Royal Academy of Fine Arts on the outside walls of deSingel, in dialogue with a live performance by jazz students from the conservatoire. The entire event was dynamically streamed into the virtual Studio POC Lounge. We cloned the room 4 times in order to receive up to 100 visitors at a time.
Virtual Open Day with Empty Mind installation on March 6th, 2021
We created a Virtual Academy, Virtual Conservatoire, a Fisherman's Lobby and a Virtual Cube Room for the open day of the Schools of Arts, Antwerp. The rooms contain a complete display of all the current possibilities in Mozilla Hubs: low poly 3D objects, 360-video, GIF's, PNG's, sound files, videos, links to external websites, moving 3D objects, livestreams and pop-up live performances
The Fisherman's Lobby – the general meeting space for students, both current and prospective – has been cloned 15 times in order to host up to 300 avatars at the same time, without technical performative losses.
The special Empty Mind installation invites avatars into a 360°-video, while being surrounded by the recording of 'No I am not roaming aimlessly' for flute solo by Anahita Abbasi, performed by Ine Vanoeveren. The music can only be heard inside the empty head of the main virtual statue.
The next step is the development of an alternative platform for live performances with a Rokoko motion capture suit, accessible on most laptops and electronic devices. The team is being divided into 4 groups, each focusing on a specific part of the research and development process:
– performers & tools: examining data, gained from performance (movement and audio)
– data mining & transfer: technological support
– platform & interaction: development of the platform
– visuals & variable designs: avatars, surroundings and interactivity
Multidisciplinary team:
Janna Beck: graphic design
Umut Eldem: live electronics
Wim Henderickx: composer, live electronics
Wes Nijssen: Rokoko mocap suit specialist
Kristof Overdulve: ICT support and platform development
Max Schweder: digital artist, platform development
Studio Plankton: 3D-animations
Kristof Timmerman: artistic direction
Ine Vanoeveren: performer, artistic direction
Trailer Virtual Open Day: https://www.youtube.com/watch?v=5rpE_iLKZUE
Trailer Inclusiv/Exclusiv: https://www.youtube.com/watch?v=c5lfOZ0kNkI
Final presentation:
ARTICULATE
October 28th 2021, 8pm
Wintertuin, Royal Academy of Fine Arts Antwerpen and online