Confined walls of unity: The reciprocal relation between notation and methodological analysis in Brian Ferneyhough's oeuvre for flute solo
Brian Ferneyhough wrote six challenging and complex pieces for flute solo: Cassandra's Dream Song (1970), Unity Capsule (1975-1976), Superscriptio (1981), Carceri d'Invenzione IIb (1985-1986), Mnemosyne (1986) and Sisyphus Redux(2011). Besides understanding Ferneyhough's compositional vocabulary, every piece also requires a different practicing method. This dissertation is a musical, interpretational, analytical and motivating guide for flutists who desire playing Ferneyhough's oeuvre. After many years of practicing and researching these six pieces, I developed a performance practice method that may help aspiring flutists in the future while discovering this rich oeuvre.
Where Cassandra's Dream Song is a modern and complex transcription of an ancient myth, Superscriptio is a mathematically complex fight against the nature of the piccolo. Sisyphus Redux holds a real risk of experiencing Camus' 'philosophy of the absurd', while Carceri d'Invenzione IIb confronts both the performer and the audience with the limits of unbearably high and loud registers. Unity Capsule Tests the performer because of the extreme length of such a complex piece, while Mnemosyne transcends the limits of information in notated music.
This performance practice method includes mythological, philosophical, mathematical and musical analyses, as well as a technical explanation and instrumental tricks that will enlarge the performer's creativity and freedom in interpreting this complex oeuvre.
For more information, please contact me via email.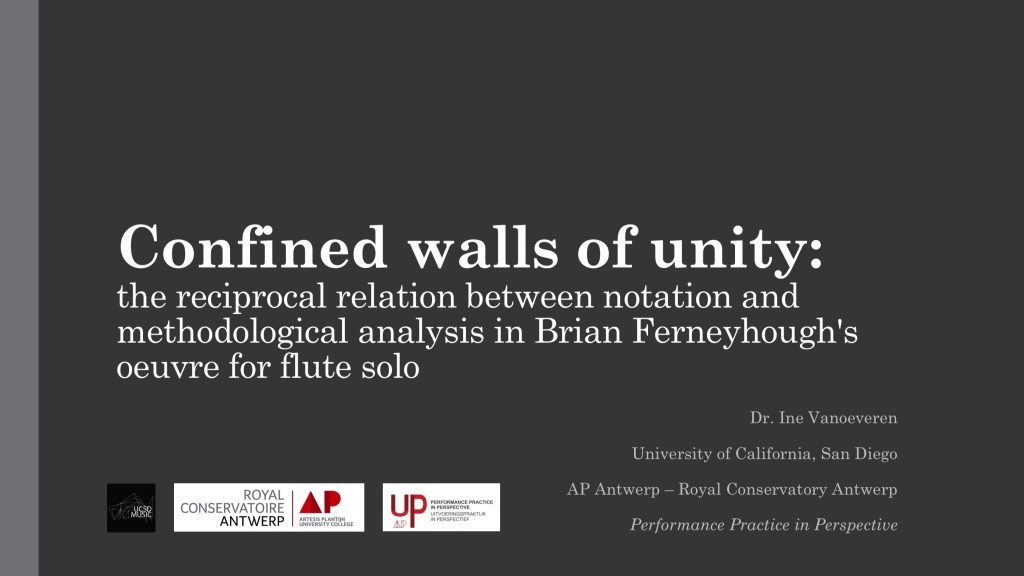 All content belongs to Copyright © 2016 Ine Vanoeveren – flutist.