Education
Belgian flutist and Doctor of Musical Arts, Ine Vanoeveren, is specialized in contemporary music and virtual performances. She obtained her Master's degree at the Conservatoire Royal de Musique de Liège (2010), in the class of prof. Toon Fret, a Master in Advanced Studies in Contemporary Music Performance and Interpretation (2012) in the class of Mario Caroli, at the Conservatorio della Svizzera Italiana and a DMA in Contemporary Music Performance (2016) in the class of Prof. John Fonville, at the University of California, San Diego.
During her doctoral research, Ine focused on the development of a performance practice method for the music for flute solo by Brian Ferneyhough. Her doctoral project, 'confined walls of unity', is a series of lectures, papers and a solo recital, consisting of his integral oeuvre for flute solo.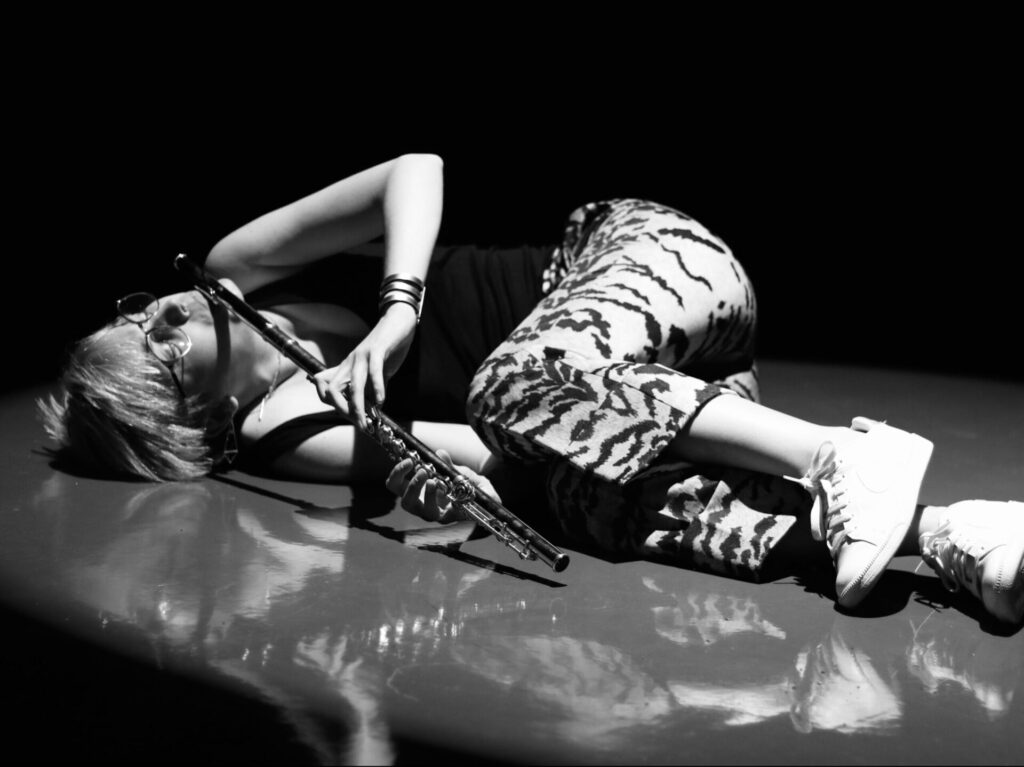 Performance
She performed at several contemporary music festivals and concert series, such as Lanterna Rossa in Lugano, Internationales Musikinstitut Darmstadt, Wednesdays @7 in San Diego, Festival Musica Sacra Maastricht, Images Sonores in Liège, Complicated Europeans Festival in New York, FIME in São Paulo and the Monday Evening Concerts in Los Angeles. In 2017, Ine toured through North-America with her solo program UN(!)limited(?) and lectured at several renowned universities, such as University of California, San Diego, New York University, City University of New York and McGill University at Montréal, Canada.

She played with several ensembles, including Ictus, Hermes, Palimpsest Ensemble and Ensemble Echoi, collaborates with numerous composers such as Brian Ferneyhough, Steven Takasugi, Rand Steiger, Robert Dick, Brian Griffith-Loeb and Jason Eckardt and premiered works by Roger Reynolds, Fernanda Aoki Navarro, James Bean, Bradley Scott Rosen, Dan Tramte, Marcelo F. Lazcano, Kevin Zhang, Felipe Rossi, Sam Hayden and Anahita Abbasi, amongst several others.
Awards
Ine won awards at the Action Classics Competition, Benelux Fluitconcours and was rewarded with a Belgian American Educational Foundation grant in 2013, to continue her research in contemporary music performance in the US. In 2016 she was awarded with the Kranichsteiner Stipendienpreise for Interpretation by the Internationales Musikinstitut Darmstadt.
studio.POC
Ine is artistic coordinator and performer with the digital arts collective studio.POC, that focuses on the fusion of art, performance and new technologies. In 2021 studio.POC developed several virtual exhibition spaces and performances in Mozilla Hubs, engaging the virtual audience in an interactive way.
Their project Empty Mind, originally a composition by Wim Henderickx, is an innovative virtual live performance with live interaction of a virtual audience that premiered in October 2021 and is currently being performed in a hybrid format and as a live VR experience.
studio.POC develops VR performances in collaboration with the technology campus Corda Campus and the graphic design company Studio Plankton as part of an Innovative Partner Project supported by the Flemish government's culture department. Within this project, an innovative think tank will organised around the futuristic phenomenon of digital waste.
studio.POC also devises and develops digital concepts for various cultural organizations and media companies.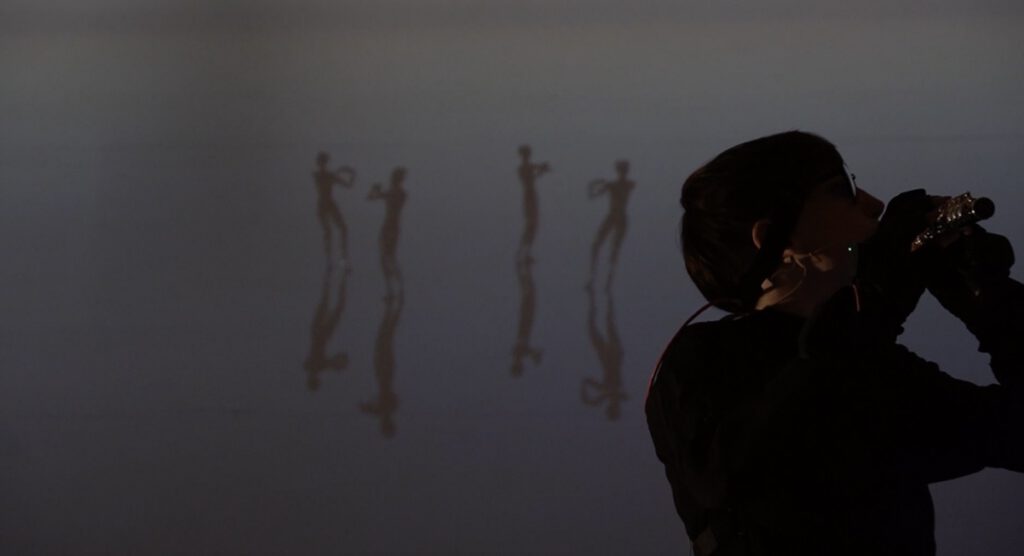 Research and teaching
Ine, along with 34 other European participants, has been selected for Voices of Culture, (Re)engaging Digital Audiences in the Cultural Sectors – Improving Audience Data. This is a dialogue between the European Commission and the cultural sector to develop guidelines and support for digital and virtual performances within the CCS.
From 2016 until 2022, she chaired the research groep CREATIE at the Royal Conservatoire Antwerp. In 2018, her book 'Tomorrow's Music in Practice Today: a practical guide towards performing contemporary music' has been published by Antwerp University Press. This book is a pragmatic tool for every conservatoire student or musician who wants to tackle the new repertoire.
In addition to performing, Ine is an assistant professor in contemporary music performance at the Royal Conservatory of Liège, and a researcher in XR-performance and metaverse applications at Hogeschool PXL, Hasselt, Belgium. She is also the coordinator of the postgraduate eArts at PXL-MAD and of the brand new Virtual Art & Entertainment Lab of Hogeschool PXL.

Ine is an active academic speaker and writer, who is regularly being invited by international conferences and universities.
She is a B.A.E.F. fellow of the year 2013.
"Ine Vanoeveren demonstrates outstanding research into performance practice, a dedication to collaborating with young composers and fearlessness in grappling with some of the most challenging flute repertoire."
– Joanna Bailie, Eva Zöllner and Thorbjørn Tønder Hansen, jury of the Kranichsteiner Stipendienpreise for Interpretation of the Internationales Musikinstitut Darmstadt.